Think You've Found a Tick on Your Dog?
Ticks aren't just uncomfortable for your pet — they can carry dangerous diseases like Lyme Disease, too. It's important to treat them quickly.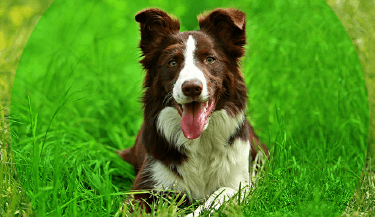 What Do Ticks on Dogs Look Like?
Ticks can vary in size, are usually black or brown, and like to hide on your pet. They feel like a small, hard bump or scab and need treatment right away.
Wearing gloves, wet hair in the area with rubbing alcohol or water.

With tweezers, grab the tick as close to the skin as possible and gently pull it straight out.

Clean your pet's wound with antiseptic or soap and water.

Take photos in case you want to show your vet at your next visit.
Find the Right Tick Treatment for Your Dog.
| | | | | |
| --- | --- | --- | --- | --- |
| | FORMAT | TREATS | DURATION | PRESCRIPTION? |
| | | TICKS, FLEAS, FLEA LARVAE, FLEA EGGS AND MOSQUITOES | 1 MONTH | NO RX NEEDED |
| | | TICKS, FLEAS AND FLEA LARVAE | 8 MONTHS | NO RX NEEDED |
Protection You and Your Dog Will Love
K9 Advantix® II
A convenient, monthly topical application that kills and repels ticks, fleas and mosquitoes through contact — so they don't have to bite your dog to die.
Do not use on cats.
Seresto®
Effectively kills and repels ticks and fleas through contact — no biting required. Plus, it works for 8 continuous months, saving you the hassle of monthly topicals or orals.
Did You Know ?
The CDC reported a 300% rise in tick-borne Lyme Disease in urban and rural areas from 1993 - 2012.1
K9 Advantix, Seresto, Elanco, and the diagonal bar logo are trademarks of Elanco or its affiliates. Other product names are trademarks of their respective owners.
1 Lyme and other tickborne diseases increasing. (2019, April 22). Retrieved May 06, 2021, from https://www.cdc.gov/media/dpk/diseases-and-conditions/lyme-disease/index.html.
Seresto® is protected by U.S. Patent No. 7,910,122.