What to consider when selecting a groomer.
Dog groomers have a variety of tools, techniques and expertise that are a welcome addition to any dog owner's life. But how do you choose the right groomer? What should you watch out for? What should you expect for your money? Why should you even go to a dog groomer?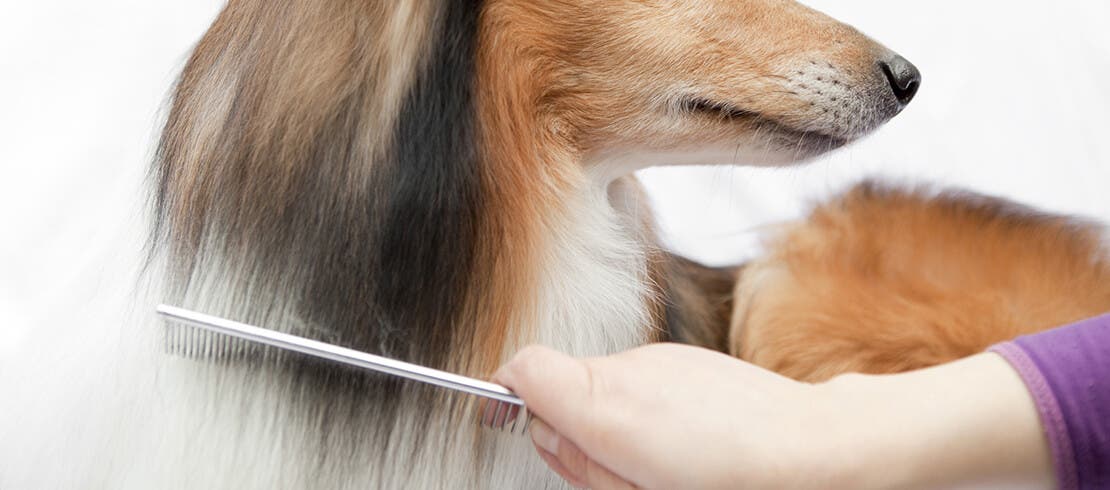 Contrary to what you may believe, keeping your dog's coat bright and shiny doesn't have to be a big expense. Learn how to find the right groomer for your dog's unique needs.
The Health Benefits of Regular Dog Grooming
Why go to a groomer? Taking your dog to a professional groomer has many benefits. A professional haircut will enhance your dog's coat, improve overall hygiene and ensure your pet is clean and comfortable. Experienced groomers will be able to:
Thoroughly clean and bathe your dog's coat
Remove hair mats or tangles
Clip nails
Trim hair around sensitive areas, like eyes and feet
Alert you to skin problems or more serious medical issues
If you or your dog groomer have concerns about your dog's health, contact your vet and schedule a checkup.
How to Choose the Right Groomer for Your Dog
When seeking a new groomer, talk to other dog owners. If you see a dog that looks particularly good, talk to the owner and find out where they go for grooming. Your local vet or doggy day care may recommend local dog groomers, too. You can also search online for groomers in your area and read reviews from customers on reviewing websites and social media.
Once you have a few names, check out their websites, and then give them a call and ask a few questions:
How long have they been in business?
What qualifications and experience do they have?
What professional organizations do they belong to? For example, they may be members of the National Dog Groomers Association of America or International Professional Groomers, Inc.
How many regular clients do they have?
What type of products do they use?
Different dogs require different grooming techniques, so you need to make sure your groomer has experience with your breed. If your dog needs a special cut or has medical needs they should be aware of, ask if the groomer is familiar with your dog's needs before making an appointment. If they're experienced professionals, they will happily answer any questions you may have.
When you visit your chosen dog groomer for the first time, look around and ask yourself:
How clean are the facilities?
How does it smell?
How up to date is the equipment?
Does the staff disinfect the equipment?
Is the staff calm, relaxed and professional?
How does the staff interact with their clients' dogs?
Don't be afraid to ask questions, specify how you want your dog groomed or give special instructions. If you don't speak up, the groomer won't necessarily know what you expect.
With some brief research, a few recommendations from fellow dog owners and your own intuition, you'll find a dog groomer who will pamper your pet and leave them looking their best.