Tanovea® (rabacfosadine for injection) for Dogs
Lymphoma in dogs is a common and treatable type of cancer. Even if you are dealing with lymphoma, you and your dog can have lots to look forward to — and that's where Tanovea can help. Tanovea is the first and only FDA fully approved treatment for lymphoma in dogs. With Tanovea, you'll only need to visit the clinic once every three weeks for a 30-minute IV infusion, giving you and your dog more quality time to spend together.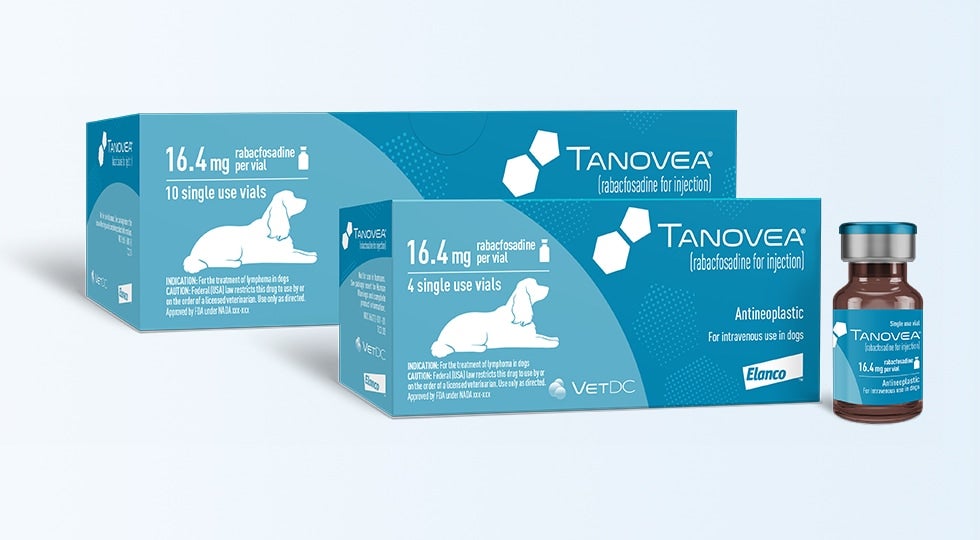 Why talk to your veterinarian about Tanovea?
Convenient treatment plan, with a 30-minute IV infusion given once every three weeks for up to five treatments.

Vets can tailor dosage to your dog's medical needs.

Tanovea works differently than some other treatments and is specifically designed to target lymphoma cells.

Tanovea is the first FDA fully approved treatment for canine lymphoma.
Indicated for:
Treatment of canine lymphoma
Treatment frequency:
Every three weeks, recommended up to five doses
Dealing with lymphoma is tough. Tanovea can help.
Tanovea, Elanco and the diagonal bar logo are trademarks of Elanco or its affiliates.
Tanovea is indicated for the treatment of lymphoma in dogs.
Important Safety Information
Tanovea is not for use in humans. Keep out of reach of children. Do not come into direct contact with Tanovea. Owners must take extra care when handling and cleaning up after their dog, and wear chemotherapy-resistant gloves to prevent contact with feces, urine, vomit and saliva of treated dogs for five days following treatment. Rabacfosadine is cytotoxic and may cause birth defects and affect female and male fertility. Tanovea is associated with life-threatening or fatal pulmonary fibrosis. Monitoring for signs of pulmonary dysfunction is recommended. Do not use in dogs with pulmonary fibrosis, a history of chronic pulmonary disease that could lead to fibrosis, or in breeds with a predisposition to this condition such as West Highland White Terriers. Use with caution in other terrier breeds. Do not use in dogs that are pregnant, nursing or intended for breeding. Most common adverse reactions included diarrhea, decreased appetite, vomiting, tiredness, weight loss, decreased white blood cell count and skin problems. Please see Tanovea product label for full Prescribing Information.
FDA: Food and Drug Administration; IV: intravenous