Seresto® Flea And Tick Collar
Seresto® is the #1 vet-recommended flea and tick collar* that works for 8 continuous months. It's easy to use, and better for your budget than monthly flea and tick treatments. That's why Seresto® has over 41 million collars sold and is stocked in over 8,000 vet clinics nationwide.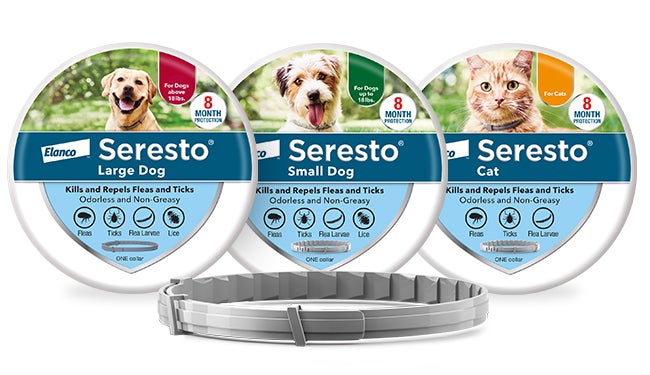 How do Seresto® collars work?
Seresto® kills and repels fleas and ticks through contact — no biting required

A Seresto® collar stays effective for 8 continuous months

Seresto® collars are odorless and non-greasy (no messy monthly treatments)

Seresto® is water-resistant†, and can stay on while swimming or bathing
Every Seresto® collar is rigorously regulated worldwide with your pet in mind.
Vets love us. Fleas and ticks? Not so much.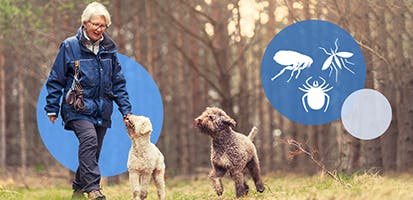 Flea and tick facts
• They're always in season.
• They can harm your pet — and spread harmful diseases.
• They can also be an issue for strictly indoor animals.
Ready for a Seresto® collar?
Seresto® is protected by U.S. Patent No. 7,910,122.
*Data on file.
†Seresto® is water-resistant and remains effective following a shampoo treatment, swimming or after exposure to rain. Under normal conditions, effectiveness lasts for 8 months. In order to maintain an eight-month duration, dogs must not be bathed more than once per month. For dogs that swim once a month or more, the control duration is reduced to 5 months for flea control and reduced to 7 months for tick control.
Seresto, Elanco and the diagonal bar logo are trademarks of Elanco or its affiliates.