T8 Keto® Flush
With both antibacterial and antifungal activity, T8 Keto® Flush helps treat ear pathogens that lead to ear infections in dogs and cats.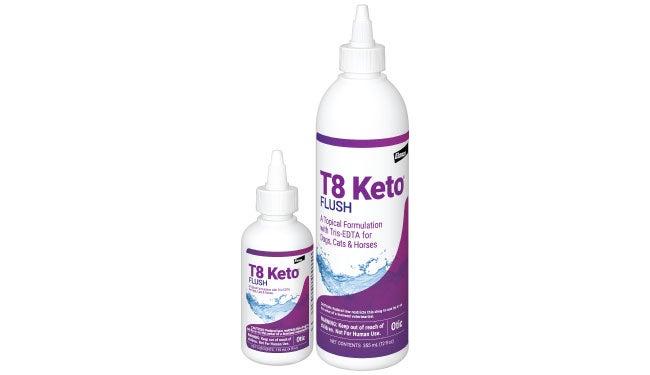 Why ask your veterinarian about T8 Keto® Flush?
Has been shown to quickly kill the common pathogens that cause yeast and bacterial ear infections*

Gentle, water-based formulation

For flushing and cleansing of skin and ears
Save on dermatology purchases from your veterinarian. See your vet for complete details.
T8 Keto is a registered trademark of Elanco.
CAUTIONS: Federal law restricts this drug to use by or on the order of a licensed veterinarian. For topical use on dogs, cats and horses. Avoid contact with eyes. If eye contact occurs or skin irritation develops, rinse thoroughly with water, discontinue use and consult your veterinarian. Available through licensed veterinarians.
WARNINGS: Keep out of reach of children. Not for human use.