Quad Dewormer (praziquantel/pyrantel pamoate/febantel) for Dogs
Quad Dewormer for Dogs is a broad-spectrum dewormer that removes common intestinal parasites with a single dose.* Quad Dewormer is effective against tapeworms, roundworms, hookworms and whipworms.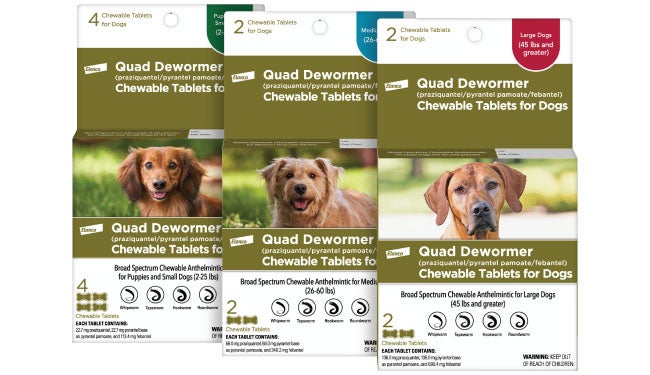 Why choose Quad Dewormer for your dog?
Treats tapeworms, roundworms, hookworms and whipworms

Easy-to-administer beef-flavored chewable tablet

Available without a prescription
Sniffing around for more great offers?
SIGN UP FOR OUR NEWSLETTER
See how you could save money on your Quad Dewormer purchase.
LEARN MORE ABOUT REBATES
*Steps should be taken to control fleas and rodents on the premises in order to prevent reinfection; otherwise, re-treatment will be necessary. Consult your veterinarian for assistance in the diagnosis, treatment and control of parasitism.
WARNING: Keep out of reach of children.