quellin® (carprofen) Soft Chewable Tablets for Dogs
There are lots of ways to give your best pal carprofen — the No. 1 prescribed pain reliever for dogs.1 But quellin® (carprofen) soft chewable tablets truly deliver a taste of the good life. quellin® is a nonsteroidal anti-inflammatory drug (NSAID) used to reduce pain and inflammation in dogs.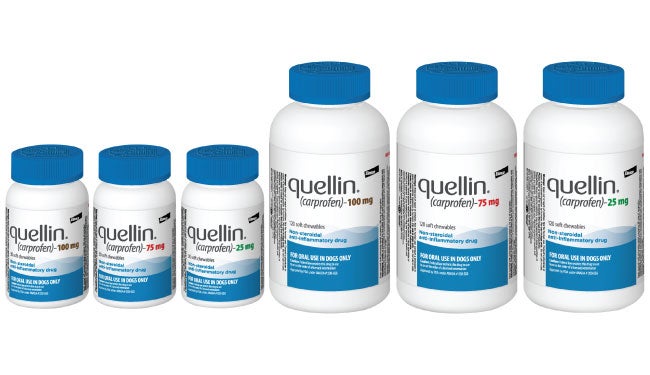 Why choose quellin® for your dog?
Carprofen, the active ingredient in quellin®, is the No. 1 prescribed pain reliever and anti-inflammatory for dogs1




Delivers pain relief through a soft and savory meat-flavored chew with no animal proteins and is designed to encourage acceptance without the need for pill pouches or trickery

Easy for your dog to chew, with scoring that makes proper dosing easy
Indicated for:
The relief of pain and inflammation associated with osteoarthritis and for the control of post-operative pain associated with soft tissue and orthopedic surgeries in dogs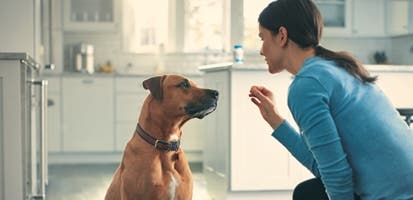 Soft chewables make treating pain a pleasure.
quellin® is made using our patented soft chew technology, which ensures each chewable tablet contains a uniformly distributed active ingredient and a great meaty taste. No disguising medication in pill pouches, peanut butter, cheese or other human food.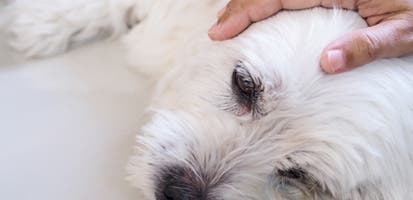 How to effectively relieve pain in dogs
Learn the pros and cons of pain relief options for your dog.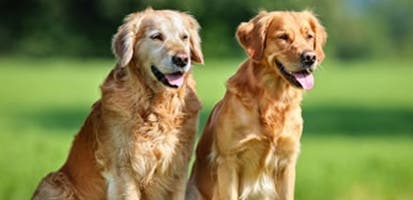 What is osteoarthritis in dogs?
While most of us think of osteoarthritis as a condition that we only see in senior dogs, it can actually be found in young and adult dogs because it's not just related to age.
quellin, Elanco and the diagonal bar logo are trademarks of Elanco or its affiliates.
CAUTION: Federal law restricts quellin® (carprofen) to use by or on the order of a licensed veterinarian.
WARNINGS: Keep quellin® (carprofen) soft chewable tablets out of reach of children. Not for human use. Consult a physician in cases of accidental ingestion by humans. For use in dogs only. Do not use in cats. All dogs should undergo a thorough history and physical examination before initiation of NSAID therapy. Appropriate laboratory tests to establish hematological and serum biochemical baseline data prior to, and periodically during, administration of any NSAID should be considered.
PRECAUTIONS: Carprofen is an NSAID, and as with others in that class, adverse reactions may occur with its use. The most frequently reported effects have been gastrointestinal signs. Events involving suspected renal, hematologic, neurologic, dermatologic and hepatic effects have also been reported.
CONTRAINDICATIONS: Carprofen should not be used in dogs exhibiting previous hypersensitivity to carprofen.