Claro® (florfenicol, terbinafine, mometasone furoate) Otic Solution
With vet-applied Claro®, your dog is one dose away from ear infection relief. It's the only dog ear infection (otits externa) treatment that delivers the entire regimen in one dose — no at-home applications required.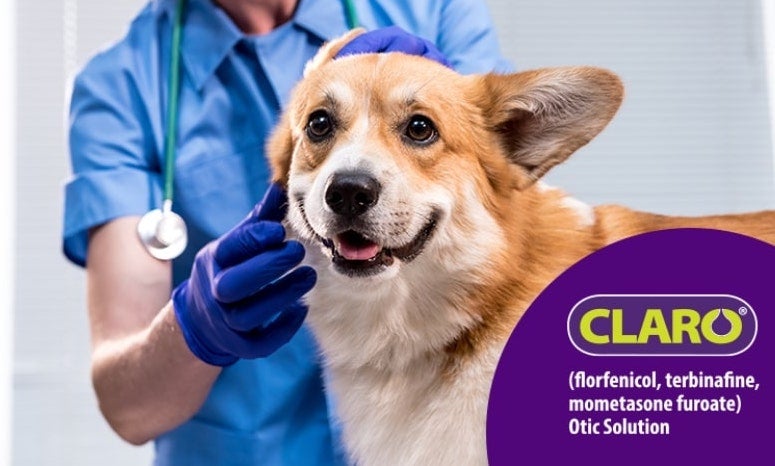 Claro® is one-of-a-kind ear infection treatment.
The only one-dose-per treatment solution

Up to 30 days of relief in a single dose

Medicine applied by your vet — no messy at-home treatments

The #1 prescription ear infection treatment purchased by vets1
Dog ear infection treatment you can rely on
Claro® features three active ingredients that work together to give your dog relief. Florfenicol fights harmful bacteria, terbinafine fights certain strains of yeast, and mometasone furoate reduces swelling and associated discomfort and itching. If your vet thinks Claro® is right for your dog, just one dose treats the infection AND soothes painful symptoms.
Vet-applied, so you know it's done right
If you notice signs of ear infection discomfort in your dog, it's important to visit your vet for a proper exam and diagnosis. With Claro®, your vet can diagnose and treat the ear infection all in the same visit. You can trust your vet to ensure the entire dose of medication reaches deep into the ear canal, so there's no need to deal with the stress or guesswork of at-home treatments.
With Claro®, relief starts right in the parking lot!
With these tips, talking to your dog's vet about an ear infection is easy.
No frustrating OTC or at-home remedies
Treating an ear infection at home multiple times a day can be challenging for you and stressful for your dog. But since one-dose Claro® is vet-applied, relief from itchy ears is easy. Avoid the hassle of messy over-the-counter and at-home remedies with ear infection treatment you can count on.
When to see your vet about a dog ear infection
Signs of a dog ear infection include head shaking, odor, ear scratching or rubbing, discharge, redness, swelling and reluctance to have ears touched. Some common causes are allergies, ear mites, water or plant material trapped in the ear, narrowed ear canals or other environmental factors.
See how you could save money on your Claro® purchase.
LEARN MORE ABOUT REBATES
Sniffing around for more great offers?
SIGN UP FOR OUR NEWSLETTER
Claro® is a registered trademark of Elanco or its affiliates.
CAUTION: Federal (U.S.A.) law restricts this drug to use by or on the order of a licensed veterinarian.
Important Safety Information: Do not use in cats. CLARO should be administered by veterinary personnel.
Human Warnings: CLARO may cause eye injury and irritation. Splatter may occur if the dog shakes its head following administration. If contact with eyes occurs, flush copiously with water for at least 15 minutes. If irritation persists, contact a physician
Do not use in dogs with known tympanic membrane perforation. (ruptured eardrum). Adverse reactions may occur following administration of CLARO®. Observe your dog for signs such as ear pain, irritation, vomiting, head shaking, head tilt, in-coordination, eye pain and discharge. Contact your veterinarian if any of these signs are observed. For complete safety information, please see Claro product label or ask your veterinarian.