Free Form™ Omega-3 Fish Oil
Free Form™ Omega-3 Fish Oil supplement for dogs and cats supports the health of your pet's skin and coat, joints and immune system with highly concentrated, omega-3 fatty acids. And it comes in two convenient forms so you can choose the one that's right for your pet, no prescription required.
Why choose Free Form™ Omega-3 Fish Oil for your pet?
Promotes everyday wellness

Supports sensitive skin, eye, joint, brain, heart, kidney and immune health; can also help dogs with seasonal skin allergies.

Contains higher levels of the omega-3 fatty acids EPA and DHA than are found in some other forms of omega-3 fatty acid supplements

Designed for easy dosing, whether you choose the Snip Tip capsules or fish oil liquid for dogs and cats.

Safety-tested, quality ingredients

Contains no added sugar or starch and is tested for heavy metals, bacteria and fungi.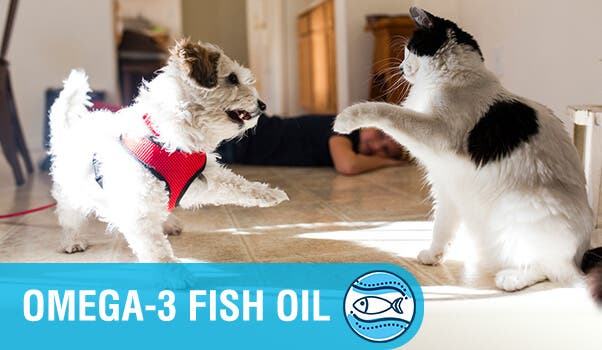 The Free Form™ Fish Oil formula
Omega-3 fatty acids play an important role in your pet's health, and quality makes a difference. The oil in Free Form™ is harvested primarily from anchovies, a renewable fish source found in deep, cold ocean waters. Then, a special molecular distillation process creates a concentrated form of EPA and DHA that can be absorbed much more easily than other forms of omega-3 fatty acids. Learn more about the benefits of omega-3 fish oil supplements for dogs and cats.
Ready to try Free Form™ Omega-3 Fish Oil?
A guide to Free Form™ for pets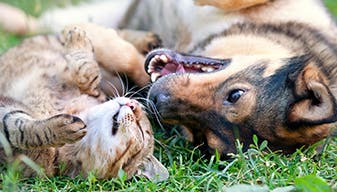 Is Free Form™ right for my pet?
Free Form™ may help dogs and cats that need support with:
Joint mobility
Normal function of the eyes, brain, heart and kidneys
A healthy immune system
Sensitive skin
Seasonal allergies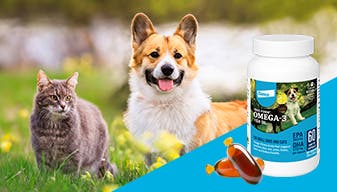 Free Form™ Snip Tips directions for small dogs and cats
Give capsules to your pet whole or snip off the cap and squeeze the contents onto their food.
Dogs and cats 5-14 pounds: 1 capsule every other day
Dogs and cats 15-29 pounds: 1 capsule daily
Dogs and cats 30-44 pounds: 2 capsules daily
Dogs and cats 45-60 pounds: 3 capsules daily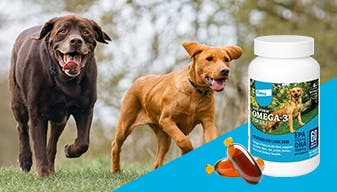 Free Form™ Snip Tips directions for medium and large dogs
Give capsules to your dog whole or snip off the cap and squeeze the contents onto their food.
Dogs 30-59 pounds: 1 capsule
Dogs 60-90 pounds: 2 capsules
Dogs over 90 pounds: 3 capsules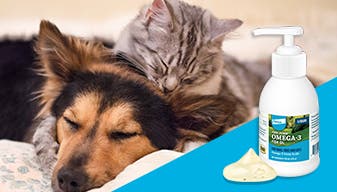 Free Form™ Liquid directions for dogs and cats
Administer 1 pump (0.5 ml) per 10 pounds of body weight daily:
Dogs and cats 1-10 pounds: 1 pump
Dogs and cats 11-20 pounds: 2 pumps
Dogs and cats 21-30 pounds: 3 pumps
Dogs 31-40 pounds: 4 pumps
Dogs 41-50 pounds: 5 pumps
Dogs 51-60 pounds: 6 pumps
Dogs 61-70 pounds: 7 pumps
Dogs 71-80 pounds: 8 pumps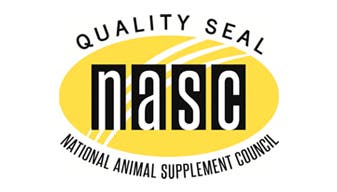 Free Form™ carries the NASC Quality Seal.
The National Animal Supplement Council (NASC) is an industry group that sets high standards for pet supplements. Only companies that meet NASC's rigorous requirements and review processes may display the Quality Seal. Look for the Quality Seal on all Elanco supplements, which have been scientifically formulated with the high-quality ingredients your pet deserves. See our full line of supplements.
Free Form and Advantage are trademarks of Elanco or its affiliates. 
1. Brown SA, Brown CA, Crowell WA, et al. (1998). J Lab Clin Med. 131(5):447-455. 
2. Freeman LM, Rush JE, Kehayias JJ, et al. (1998). J Vet Intern Med. 12:440-448. 
3. Bauer J, et al. (2006). J Nutrition. 136:1991S-1994S. 
4. Logas D, Kunkle GA. (1994). Vet Dermatol. 15:99-104. 
5. Mueller RS, Fieseler KV, Fettman MJ, et al. (2004). J Sm Anim Prac. 45:293-297. 
CAUTIONS: Safe use in pregnant animals or animals intended for breeding has not been proven. If animal's condition worsens or does not improve, stop product administration and consult your veterinarian. An examination from a veterinarian is recommended prior to using this product.
WARNINGS: Not for human consumption. Keep out of reach of children and animals. In case of accidental overdose, contact a health professional immediately.