Treat canine osteoarthritis at home with Galliprant® (grapiprant tablets)
Galliprant is a first-of-its-kind NSAID that targets the source of osteoarthritis pain and inflammation from the start.*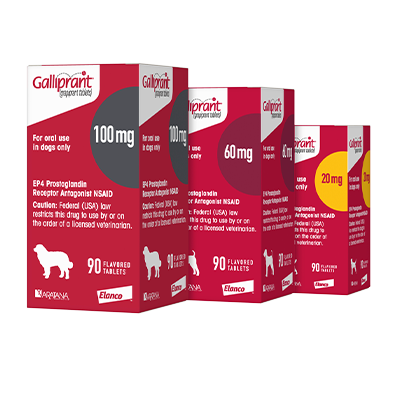 Innovative treatment manages canine osteoarthritis pain and inflammation early on,* and can used as long as needed**

Flavored, chewable tablet that's safe to use daily

Targets the source of canine osteoarthritis pain and inflammation
How does Galliprant work?
Indicated for:  
Controlling pain and inflammation associated with osteoarthritis (OA) in dogs.
Form:
Flavored chewable tablets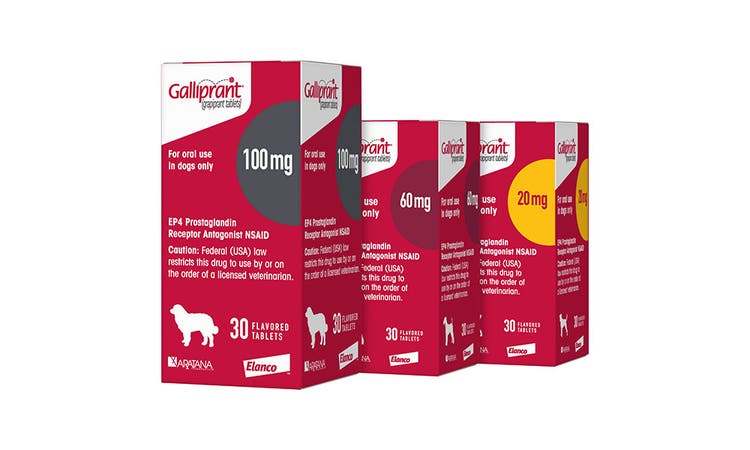 A first-of-its-kind NSAID
Galliprant features a unique mode of action that effectively addresses inflammation and pain while reducing the impact on your dog's organ health.³,⁴**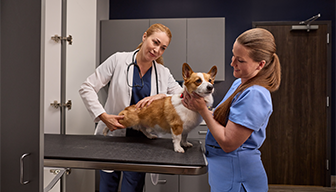 Targets canine OA pain from first diagnosis
Galliprant is approved for use in dogs at least 9 months of age and greater than 8 pounds, so you and your veterinarian can intervene early.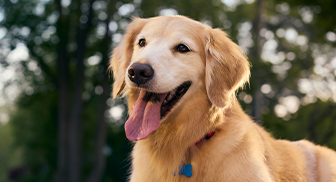 Safe to use daily
OA is a progressive, lifelong disease. Galliprant can help manage your dog's daily pain as they grow older.**
Less Pain. More Time Doing the Things You Love.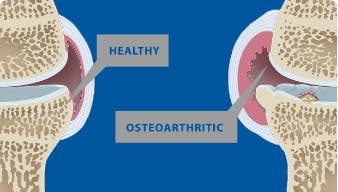 Understanding OA
OA is a painful and progressive disease that causes inflammation and swelling in a dog's joints
1. It's the No. 1 cause of chronic pain in dogs¹
2. Approximately 40% of dogs have radiographic evidence of osteoar-thritis (OA) by 4 years of age.²
3. It doesn't just affect older dogs – it affects dogs of all ages.
There's no cure for OA, but Galliprant can help manage your dog's pain.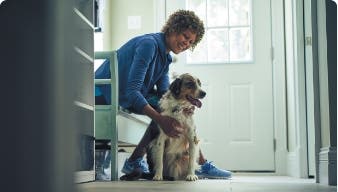 Know the risk factors
Regardless of age, any dog may be susceptible to OA. Risk factors include:
1. Breed
2. Intense activity
3. Obesity
4. Joint injury
5. Joint surgery
Talk to your vet to learn more about potential OA risk factors.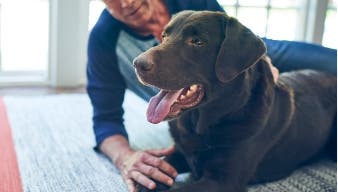 Warning signs of OA
Your dog may be suffering from OA if they exhibit any of the following signs:
1. Difficulty going up and down stairs
2. Having trouble getting into the car or bed
3. Slowing down during walks or while playing
4. Limping or dragging paws
5. Struggle to get up after lying down
If your dog shows any of these warning signs, schedule an appointment with your vet.
Galliprant is an NSAID that controls pain and inflammation associated with osteoarthritis in dogs.