Credelio® (lotilaner)
Credelio is a small, tasty1 chewable that's approved for all puppies and dogs eight weeks of age or older that weigh 4.4 pounds or greater. Credelio isn't just gentle on your pup, it also kills ticks and fleas fast2,3 and lasts a full month.
Credelio is prescription tick and flea protection, so ask your veterinarian — your trusted resource for the health care of your furry best friend.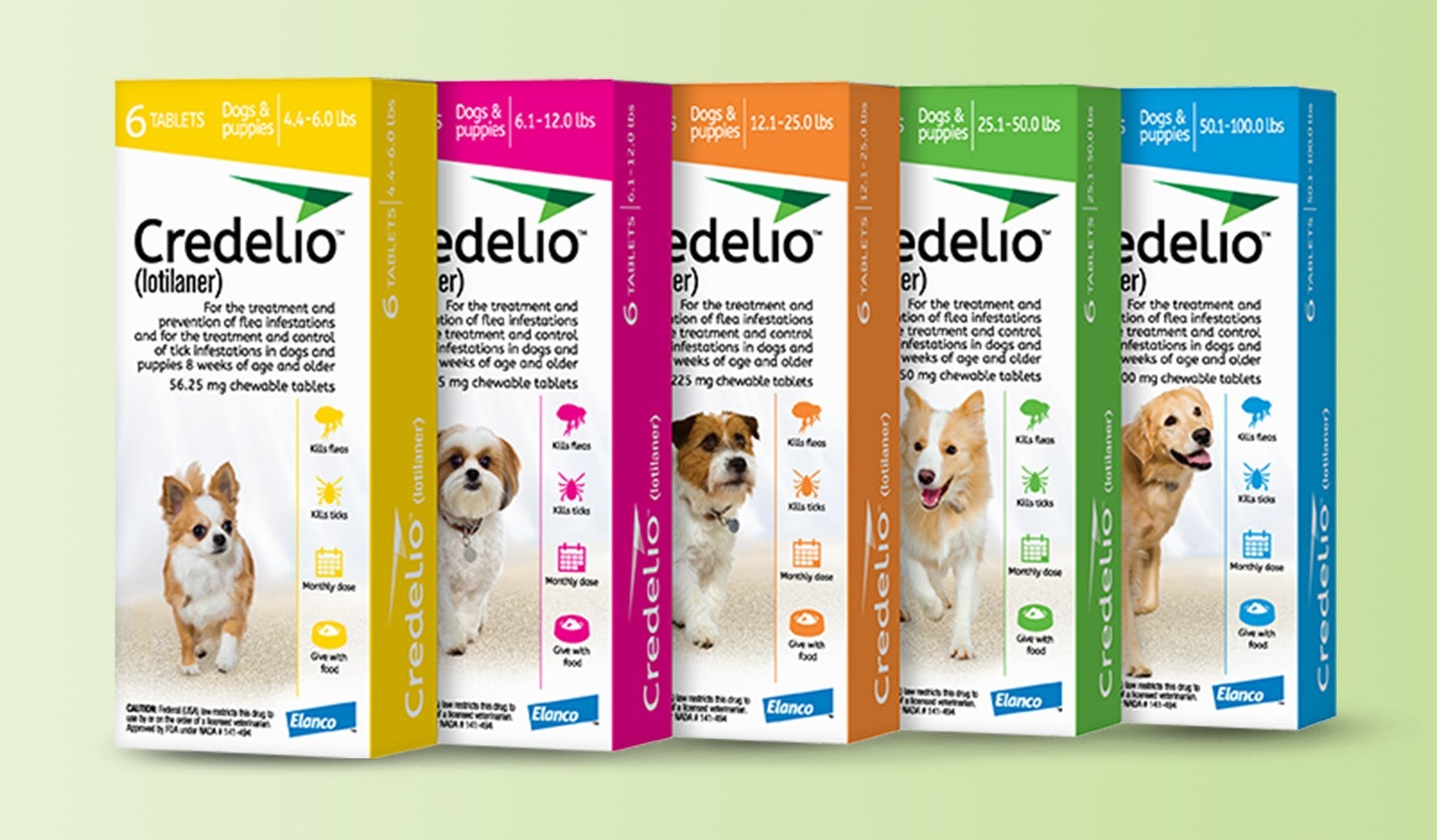 Gentle on dogs, tough on ticks and fleas
Tasty chewable accepted by 100% of client-owned dogs1

Credelio starts to kill ticks* and fleas in just four hours2,3

(*Ixodes ricinus)

One chewable tablet protects all month long
Works for:
Puppies and dogs 8 weeks of age or older that weigh 4.4 pounds or greater
Protect your dog from ticks and fleas with gentle yet powerful Credelio
Dose according to your dog's weight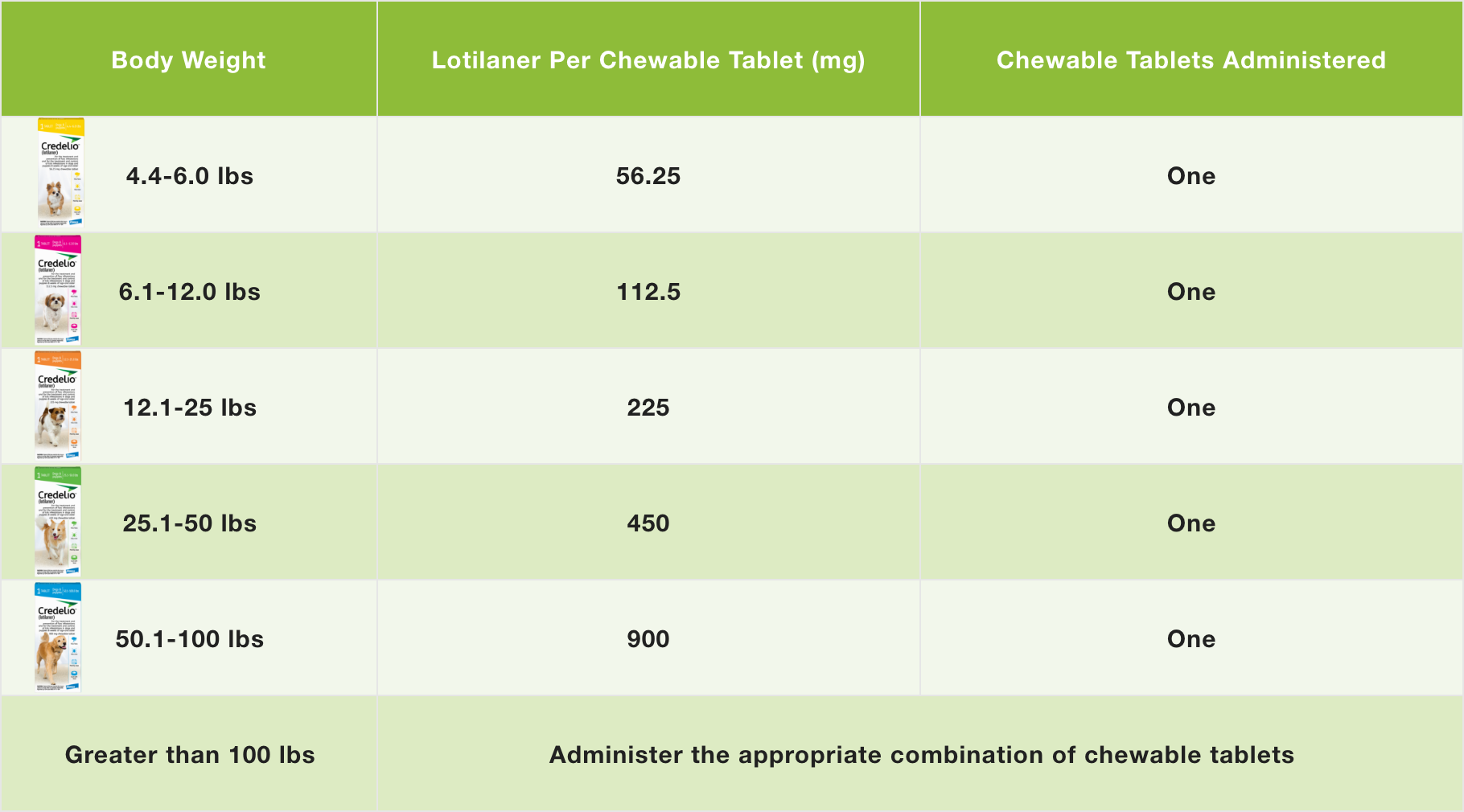 Credelio's extra-purification process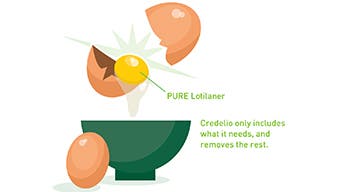 Have you ever read a recipe and wondered if all of the ingredients are really necessary?
In the recipe for some medications, the active ingredient is a mixture of different forms of the molecule.
When creating Credelio, Elanco discovered that only one part of the mixture was necessary to get the desired effect. So Elanco takes the extra step to filter out the part of the mixture that isn't needed, leaving only lotilaner, the purified active ingredient, which means your dog only takes what he needs.
This extra-purification process offers three benefits:
Decreased possibility of potential side effects5

There's less for your dog's body to process6

Your dog gets strong protection in a smaller tablet that's easy to give6
Credelio, Elanco and the diagonal bar logo are trademarks of Elanco or its affiliates.
Indications for Credelio
Credelio kills adult fleas and is indicated for the treatment and prevention of flea infestations and treatment and control of tick infestations (lone star tick, American dog tick, black-legged tick and brown dog tick) for one month in dogs and puppies 8 weeks and older and 4.4 pounds or greater.
Important Safety Information for Credelio
Lotilaner is a member of the isoxazoline class of drugs. This class has been associated with neurologic adverse reactions including tremors, incoordination and seizures. Seizures have been reported in dogs receiving this class of drugs, even in dogs without a history of seizures. Use with caution in dogs with a history of seizures or neurologic disorders. The safe use of Credelio in breeding, pregnant or lactating dogs has not been evaluated. The most frequently reported adverse reactions are weight loss, elevated blood urea nitrogen, increased urination and diarrhea. For complete safety information, please see Credelio product label or ask your veterinarian.
Indications for Interceptor Plus
Interceptor Plus prevents heartworm disease and treats and controls adult roundworm, hookworm, whipworm, and tapeworm infections in dogs and puppies 6 weeks or older and 2 pounds or greater.
Important Safety Information for Interceptor Plus
Treatment with fewer than 6 monthly doses after the last exposure to mosquitoes may not provide complete heartworm prevention. Prior to administration of Interceptor Plus, dogs should be tested for existing heartworm infections. The safety of Interceptor Plus has not been evaluated in dogs used for breeding or in lactating females. The following adverse reactions have been reported in dogs after administration of milbemycin oxime or praziquantel: vomiting, diarrhea, decreased activity, incoordination, weight loss, convulsions, weakness, and salivation. For complete safety information, please see Interceptor® Plus product label or ask your veterinarian.