Back to the good life.
Help your cat break the itch-scratch-lick cycle with Atopica® for Cats (cyclosporine oral solution) USP MODIFIED.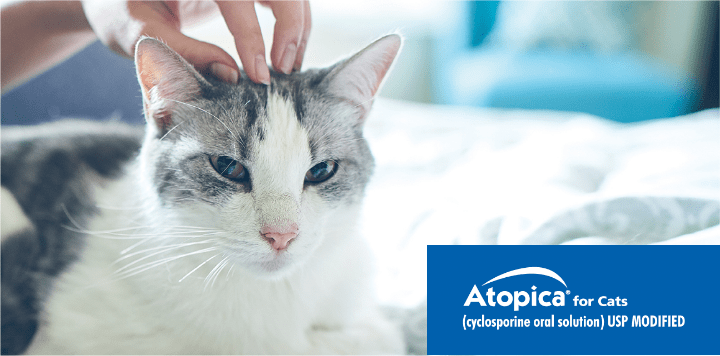 Why choose Atopica® for Cats?
Atopica® for Cats targets the source of the itch

Long-term relief without steroids¹

Trusted by veterinarians for over 10 years
Award-winning, trusted relief
Atopica® for Cats is the first and only FDA-approved product for feline allergic dermatitis. It's highly rated by cat owners² and was named the winner of the Easy to Give Award by International Cat Care in 2012.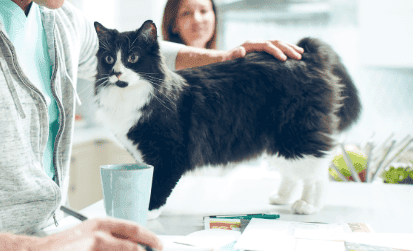 Easy to administer
Mix in with food or apply directly in the mouth just after feeding.
Your vet may decrease dosing once your cat is feeling better.
Over 80% of cats can be dosed every other day or less after the initial eight weeks of treatment.
Help your cat break the itch-scratch-lick cycle with Atopica® for Cats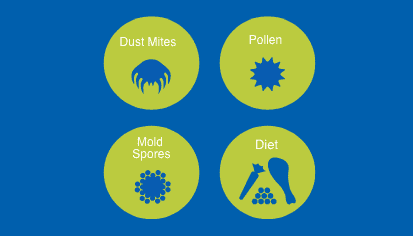 What is allergic dermatitis?
Allergic dermatitis is an extreme irritation of your cat's skin caused by sensitivity to allergens in the environment.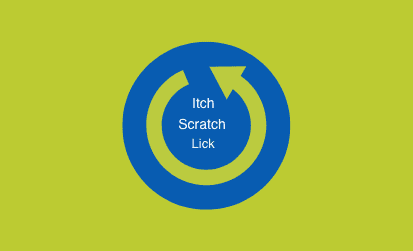 A painful cycle
Allergic dermatitis makes your cat itch, scratch, lick and even chew its skin. This leads to red spots, crusty sores and hair loss, which cause even more irritation.
Atopica®, Elanco and the diagonal bar logo are trademarks of Elanco or its affiliates.
Indications:
ATOPICA® for Cats (cyclosporine oral solution) USP MODIFIED is indicated for the control of feline allergic dermatitis as manifested by excoriations (including facial and neck), miliary dermatitis, eosinophilic plaques, and self-induced alopecia in cats at least 6 months of age and at least 3 lbs in body weight.
Important Safety Information:
Do not use in cats with a history or suspicion of malignant disorders, feline leukemia virus (FeLV) or feline immunodeficiency virus (FIV) infection, or hypersensitivity to cyclosporine. Atopica® is a systemic immunosuppressant that may increase susceptibility to infection, development of neoplasia, and decrease response to vaccination. Persistent, progressive weight loss may result in hepatic lipidosis; monitoring of body weight is recommended. For use only in cats. Wash hands after administration. People with known hypersensitivity should avoid contact with Atopica®. Do not use with other immunosuppressive agents. It is important for cats to avoid exposure to Toxoplasma gondii during treatment. Use with caution in cats with diabetes mellitus or renal insufficiency, and with drugs that affect the P-450 enzyme system. The most common adverse events were vomiting, weight loss, diarrhea or loss of appetite. Please speak with your veterinarian for advice. Please see product label for full prescribing information.