Drontal® Plus (praziquantel/pyrantel pamoate/febantel) for Dogs
Drontal® Plus is an oral medication specially formulated for dogs and puppies 3 weeks of age or older. It is prescribed by veterinarians to help treat a variety of intestinal worms including tapeworms, hookworms, roundworms and whipworms.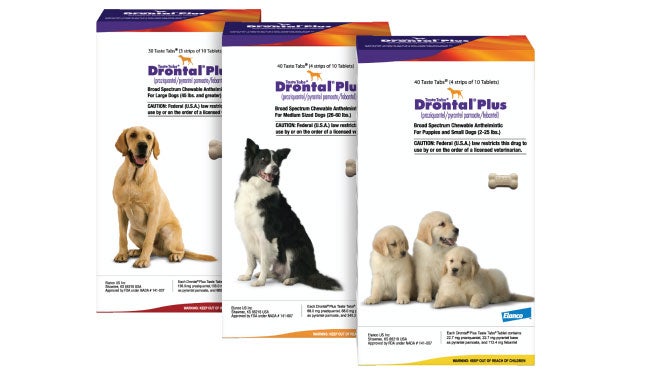 Why choose Drontal® Plus for your dog?
In a single dose, Drontal® Plus safely and effectively removes nine different species of hookworms, roundworms, tapeworms and whipworms†

Available in both tablets and chewable beef-flavored Taste Tabs® designed to make dosing easy
Treats:
Tapeworms, roundworms, hookworms, whipworms
Works for:
Dogs and puppies that are at least 3 weeks of age and weigh at least 2 pounds
Treatment frequency:
As recommended by veterinarian
Veterinary prescription required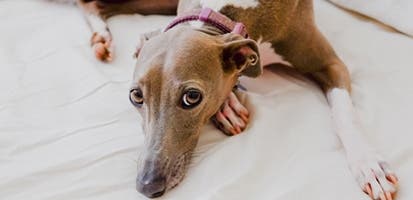 Intestinal worms love your dog (almost as much as you do).
When intestinal worms are left untreated, they can cause a great deal of damage to your pet's health. By asking your veterinarian about Drontal® Plus, you have the power to help treat against intestinal worms.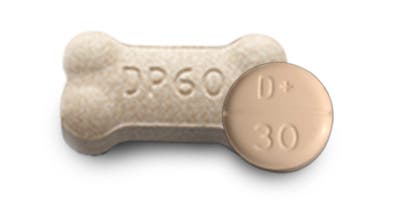 Drontal® Plus is as easy as it is effective.
Drontal® Plus Tablets may be given directly by mouth or offered in a small amount of food.
Drontal® Plus Taste Tabs® provide a tasty treat-like experience through the flavor of beef.
Ready to protect your dog from intestinal worms?
Drontal, Taste Tabs, Elanco and the diagonal bar logo are trademarks of Elanco or its affiliates.
†Steps should be taken to control fleas and rodents on the premises in order to prevent reinfection: otherwise, retreatment will be necessary. Consult your veterinarian for assistance in the diagnosis, treatment and control of parasitism.
CAUTION: Federal law (U.S.A.) restricts Drontal® Plus to use by or on the order of a licensed veterinarian.
DOSAGE: Not for use in puppies less than 3 weeks of age or weighing less than 2 lbs.
CONTRAINDICATIONS: Do no use in pregnant animals. WARNING: Keep out of reach of children.