Entyce® (capromorelin oral solution) for Dogs
Many dogs with common health conditions can lose their appetite — and it can be hard to see your pet not feeling like themselves. Entyce supports dogs facing long-term health challenges by mimicking their natural hunger hormone, leading to increased appetite.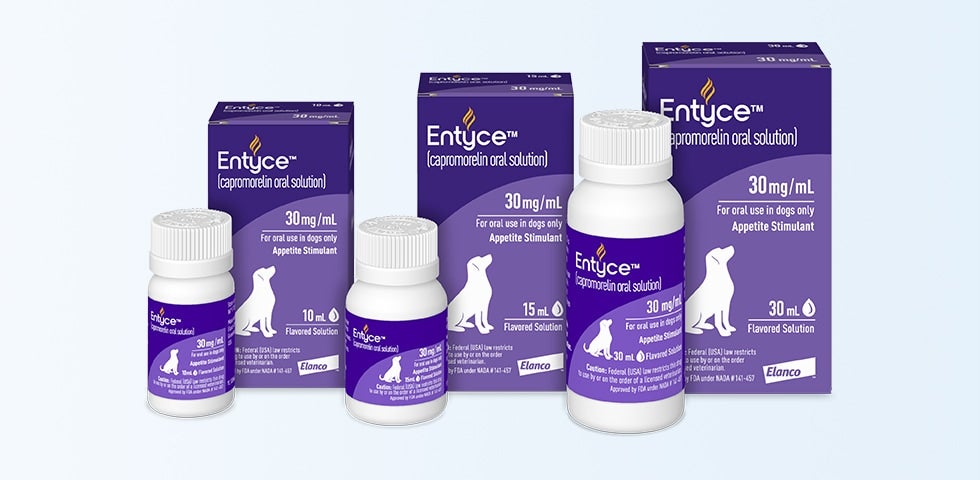 Why talk to your veterinarian about Entyce?
Entyce delivers visible results, with almost seven out of 10 dog owners reported increased appetite in just four days of treatment, compared to 4.5 out of 10 control dogs*,2

Dogs with long-term health conditions can safely take Entyce throughout their treatment journey.

Entyce works like your dog's own natural hunger hormone, ghrelin.

Entyce increases your dog's appetite, leading to increased food consumption.
Entyce increases appetite to help get your dog back on track
Indicated for:
Appetite stimulation for dogs
If your dog has a decreased appetite, talk to your vet about Entyce
Entyce, Elanco and the diagonal bar logo are trademarks of Elanco or its affiliates.
*Compared to less than five out of 10 dogs in the control group.
Indication
Entyce is indicated for appetite stimulation in dogs.
Important Safety Information
Entyce is for use in dogs only. Do not use in dogs that have a hypersensitivity to capromorelin. Use with caution in dogs with hepatic dysfunction or renal insufficiency. The safe use of Entyce has not been evaluated in breeding, pregnant or lactating dogs. The most common adverse reactions included diarrhea, vomiting, elevated blood urea nitrogen, polydipsia and hypersalivation. Please see Entyce product label for full Prescribing Information.