Profender® (emodepside/praziquantel) for Cats
Did you know that your cat can pick up tapeworms, roundworms and hookworms even if he never leaves your house? Luckily, Profender® is an easy and effective way to deworm your cat.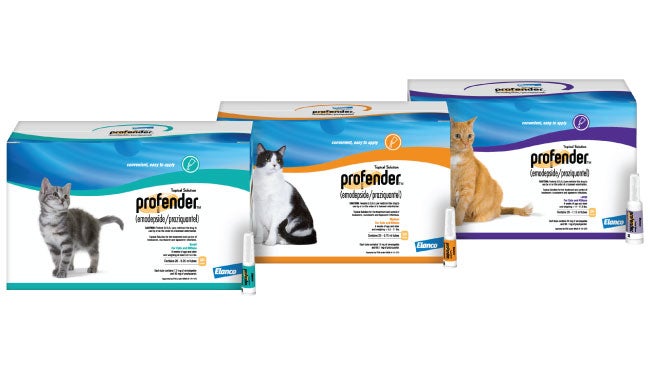 Why choose Profender® for your cat?
Treat the worms that matter most to your cat

Profender® is applied topically to your cat's skin, so there's no need for the stress of pills

Just one easy application, which means no follow up appointment*
*Reinfection is always a possibility, in which case additional treatment after 30 days may be necessary. Talk to your veterinarian to find the best course of action
How does Profender® work for your cat?
Treats:
Tapeworms, roundworms, hookworms
Works for:
cats and kittens that are at least 8 weeks old and weigh at least 2.2 pounds
Treatment frequency:
As recommended by veterinarian
Veterinary prescription required
Ready to protect your cat from intestinal worms?

1.
While holding the tube in an upright position, remove the cap from the tube. Turn the cap over and place the other end of the cap onto the tip of the tube.

2.
Twist the cap to break the seal and then remove the cap from the tube.
3.
Part the hair on the back of the cat's neck at the base of the head, until the skin is visible.

4.
Place the tip of the tube on the skin and squeeze the entire contents directly onto the skin. Please see product label for complete application instructions.
See how you could save money on your Profender® purchase.
LEARN MORE ABOUT REBATES
Sniffing around for more great offers?
SIGN UP FOR OUR NEWSLETTER
Profender, Elanco and the diagonal bar logo are trademarks of Elanco or its affiliates.
CAUTION: Federal law (U.S.A.) restricts Profender® to use by or on the order of a licensed veterinarian. HUMAN WARNING: Children should not come in contact with the application site for twenty-four (24) hours. PRECAUTIONS: The effectiveness of this product when used before bathing has not been evaluated. Use with caution in sick or debilitated cats. Oral ingestion or exposure should be avoided.