Supplements with ingredients like antioxidants, bioflavonoids, Boswellia, and turmeric help eliminate free radicals associated with aging and can support your dog's overall health.
By Donna M. Raditic, DVM, DACVN
The aging process can impact your dog's quality of life, well-being, and overall level of comfort. As dogs age, they have a reduced tolerance for stress and are more susceptible to other health issues and discomforts. We know that genetics and some environmental factors play a role in a dog's aging, quality of life, and lifespan. Fortunately, we also know that factors we can control play a role as well. These include:
Regular veterinary care to assess your dog's whole body health
Supplements with ingredients that help support a dog's healthy immune and inflammatory response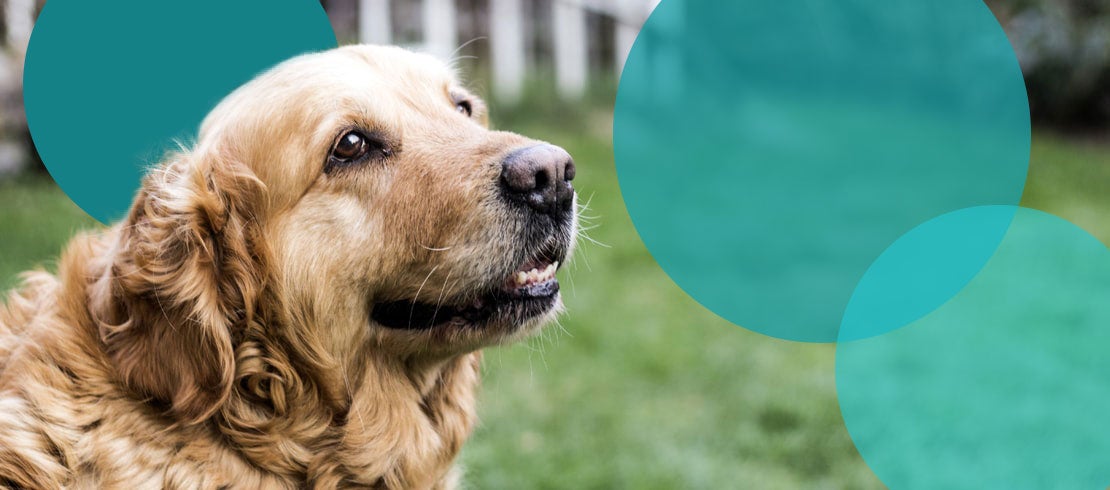 Getting Old Is Not a Disease
The aging process is determined by genetics and influenced by lifestyle, diet, and various environmental factors, such as exposure to microorganisms, pollutants, and ionizing radiation. These factors will impact the level of harmful compounds generated in body tissues called oxidative or free radicals. Free radicals can injure or damage body tissues. In a young, healthy dog, free radicals are effectively neutralized, limiting tissue injury or damage.
However, the ability to eliminate free radicals and heal damaged tissues declines in aging dogs. In addition, your dog's lifestyle may increase free radicals in the body. For example, being overweight, hard play, and performance activities may increase free radical production.
Aging Inside and Out
As your dog ages, you may see changes like a graying haircoat or a decline in activity on the outside, but what you see on the outside is occurring on the inside as well. ALL of your dog's body systems are aging and more susceptible to free radical damage, ongoing tissue injury, and inflammation. The decline in body systems seen in aging — muscle, bone, and ligament changes — may result in some discomfort, aches, and stiffness. Your dog's immune, cardiovascular and nervous systems, as well as the brain, will undergo these aging changes as well, which can contribute to a decline in alertness, energy, vitality, and whole body comfort.
To monitor the aging process, more frequent veterinary checkups are often recommended for older dogs. A thorough physical examination, as well as blood, urine and other tests, can help your veterinarian identify and treat age-related changes earlier.
Easing the Discomforts of Aging
Your veterinarian may recommend exercises or other lifestyle changes, as well as supplements that contain specific nutrients and natural plant compounds to positively affect your dog's aging and whole body comfort. These might include:
Vitamins C and E and lipoic acid: These antioxidants directly neutralize free radicals.
Zinc, copper, and selenium: These minerals with antioxidant properties also help prevent free radical damage.
Baicalin and catechin: These two bioflavonoids may help support a healthy inflammatory response and help eliminate free radicals associated with aging.1
Boswellia serrata: Natural extracts from this plant may help maintain an aging dog's normal inflammatory response and protect against free radical damage.2,3,4
Curcuma longa: The natural botanical extract form of this orange-colored root, better known as turmeric, may help support a dog's normal immune and inflammatory response.5
Helping Your Dog Feel Comfortable
Ask your veterinarian about supplements with ingredients that help eliminate free radicals and support your dog's healthy immune and inflammatory response. Using supplements with these ingredients can promote your dog's whole body comfort and may help your dog stay healthier, alert, and active.
About the Expert:
Dr. Donna M. Raditic completed her Doctorate of Veterinary Medicine at Cornell's College of Veterinary Medicine. She was a Professor for the Nutrition and the Integrative Medicine Services at the University of Tennessee College of Veterinary Medicine and now publishes and lectures nationally and internationally on nutrition, supplements and integrative veterinary medicine. A veterinary nutritionist, integrative practitioner, to academic professor, she offers unique perspectives on the role of nutrition and integrative care for companion animals.
References
1Burnett BP, Bitto A, Altavilla D, et al. (2011). Mediators Inflamm. 1-11.
2Reichling J, Schmokel H, Fitzi J, et al. (2004). Schweiz Arch Tierheilkd. 146(2):71-79.
3Safayhi H, Mack T, Sabieraj J, et al. (1992). J Pharmacol Exp Ther. 261(3):1143-1146.
4Reddy GK, Chandrakasan G, Dhar SC. (1989). Biochem Pharmacol. 38(20):3527-3534.
5Aggarwal BB, Kumar A, Aggarwal MS, et al. (2005). CRC Press LLC. (23):349-387.