Moving can be especially stressful for your dog or cat. Here's how to prepare them for the move and help them settle in once you've arrived.
Moving to a new home is stressful, not only for you, but also for your pet. A new space with unfamiliar sights, smells and sounds can cause an animal stress. But with careful planning, you can help your dog or cat happily adjust to their new home quickly for an easy transition for all when moving with pets.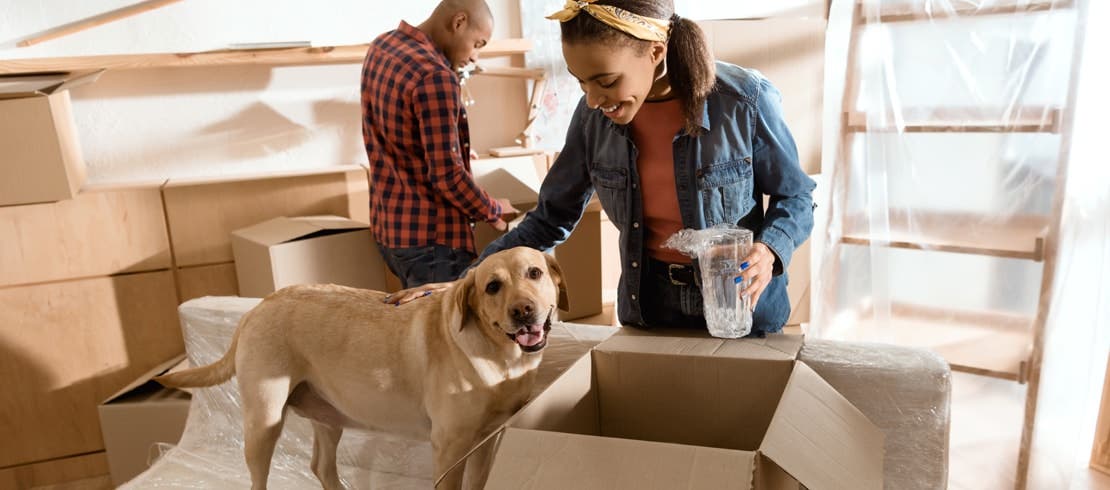 Prepare Your Pet before the Move
If you're able, it's helpful to get your cat or dog ready for the move a few months in advance. Help prepare with the following tips for moving with pets:
Take them to the vet for a health checkup.
Find out if your pet is up to date on their vaccinations and parasite prevention to keep them protected for any potential parasites during travel or in their new environment.
Make sure that your pet's microchips, tags and records are current and reflect your new address.
Consult your vet how to keep your pet calm and help them adjust to their new home. You may want to discuss anxiety aids that will help relax your cat or dog during this potentially stressful time.
Prep for your pet's travel.
Pack an overnight bag for your pet. This will have food, treats and essentials to take care of your dog or cat during the move.
Set up a carrier with a comfy blanket (you could even spray it with a calming pet pheromone), and place it in an area of your home your cat or dog prefers. Once it's time to move, your cat or dog will feel more comfortable and will be more likely to enter the carrier willingly.
If you're driving to your new home, take your pet on short car rides prior to the move to prepare them for a longer trip. If it's a relatively short distance, wait until everything is moved into your new house before you bring your pet, so that things don't seem too chaotic for them.
Whether you're traveling with a cat or a dog, line the carrier with puppy training pads. Even the most well-trained pets can forget their bathroom manners during a long and nerve-racking trip.
Make sure you have an up-to-date picture of your pet(s) in your phone in case you are separated.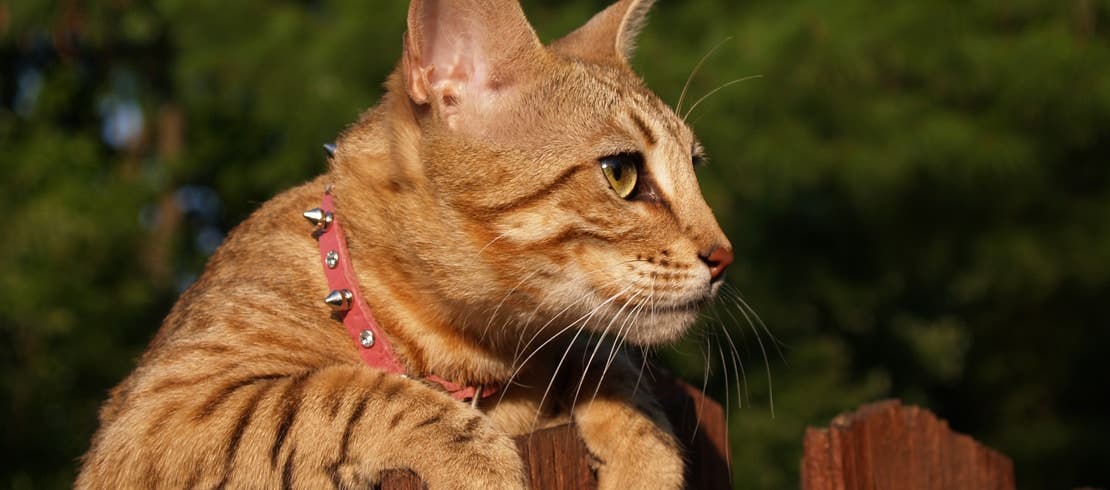 Prepare Your New Home
Hopefully, the former homeowners or tenants left your new home spick-and-span, but even if the house looks spotless, fleas could still be hiding throughout. Prepare your new home for your pet with these tips:
Thoroughly clean once you arrive.
To rid the house of fleas or ticks left by previous owners' or tenants' animals, treat the inside of your home with a household fogger to help eliminate lingering infestations.
Prep the yard.
Previous pets — as well as raccoons, deer, foxes and other animals — can leave behind ticks and fleas that can then make their way to your pets. Trim foliage, mow the lawn and clear brush to reduce potential hiding places for parasites.
Treat your yard with a yard spray that helps fight fleas and ticks.
Some pets may try to escape in an attempt to return to their old home. Ensure all fencing is secure by checking for gaps, weak spots or holes your dog or cat could slip through or dig under.
Once your fence line is secure, bring your dog or cat outside on a leash so they can acclimate to their new yard.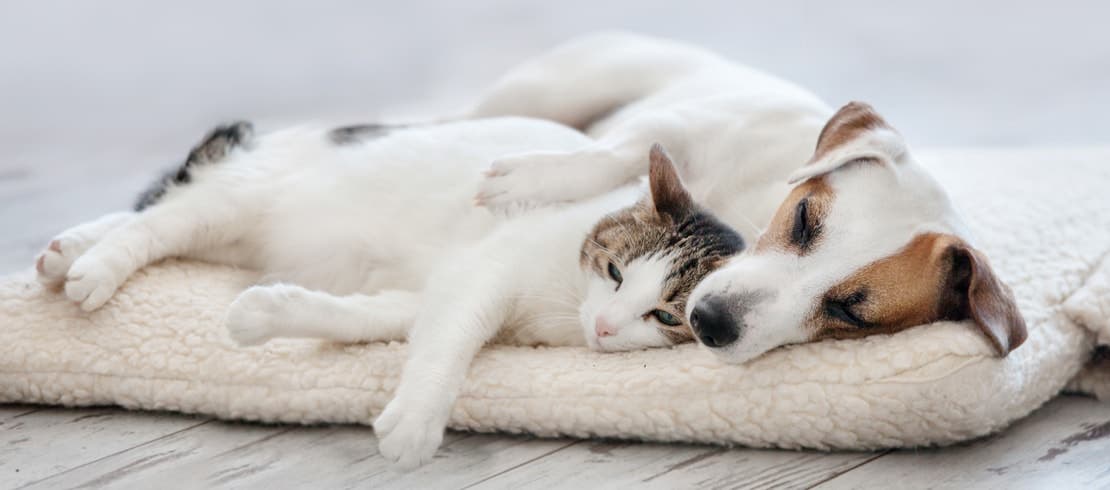 Help Your Pet Adjust
The house is clean, the yard has been treated for fleas and ticks, and your cat or dog can roam around, but your pet still needs to adjust emotionally to their new home. You can help them feel more comfortable in the following ways:
Close off areas that might be dangerous hiding places for them.
If your pet is feeling stressed or overwhelmed, they may seek a hiding place. Make sure they are safe by blocking off potentially dangerous hiding spots, but let them go where they feel comfortable. They will come out of hiding eventually, especially when they are hungry.
Place cats in a small room with their litter, food and toys.
When a cat is adjusting to a new home, they often feel safer in small spaces with scents they are familiar with, which allow them to slowly adapt to their new space before venturing into larger areas. Be sure to check in with them often and give them lots of attention so they don't feel abandoned. As they grow more comfortable, you can give them access to other parts of the house.
Give dogs their old bed and their favorite toys.
It's tempting to buy new bedding and toys for your pet when you move, but your dog will probably want familiar objects that smell like home and provide reassurance that things haven't changed too much.
Introduce outdoor cats to their new environments.
Even if your cat enjoys being outdoors, keep them inside for the first couple of days, but open the windows slightly to let in some of the local air. You can also place their favorite piece of furniture near the window so that they can look out and get accustomed to their new surroundings before they venture out into them.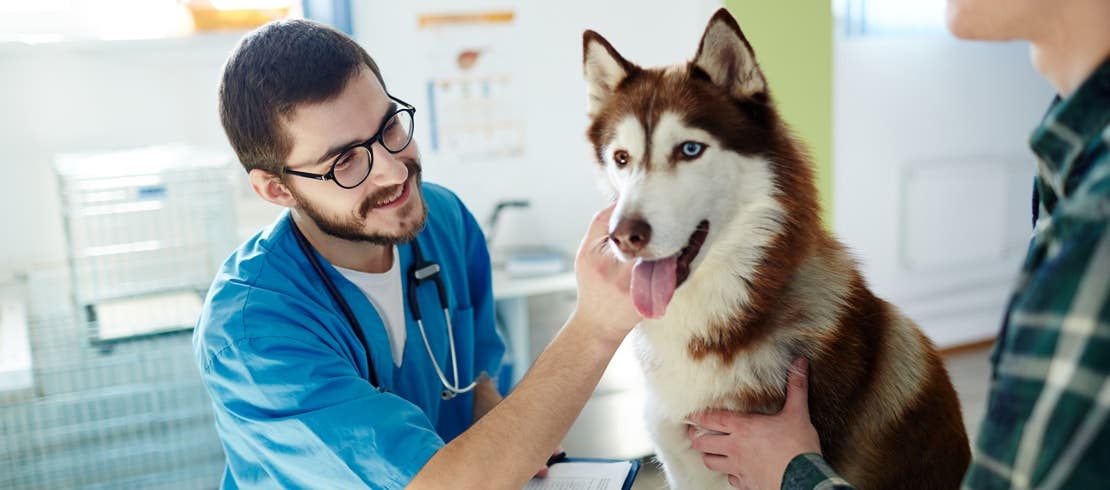 Find a New Veterinarian
If you are moving far away, make it a top priority to find a new local vet once the move is complete. Do your research by:
Asking your neighbors who own pets for recommendations.
Reading online reviews.
Visiting the websites of potential veterinarian clinics to compare options (some even have virtual tours).
Trying out a few different veterinarians before settling on the one you (and your pet) feel most comfortable with.
Moving with pets to a new home can be stressful for everyone, but these simple steps can make the experience much easier.

Endurosyn® is a three-day probiotic oral gel in a palatable poultry flavor to promote intestinal well-being during sudden times of stress in dogs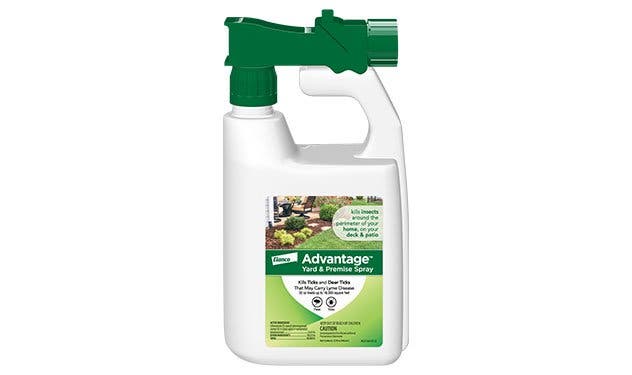 Kills fleas, ticks and other insects in your yard and around the perimeter of your home. Not for use on pets. Use as directed.
A three-day probiotic oral gel to promote intestinal well-being during sudden times of stress in cats.