Endurosyn® Digestive Health Probiotic Gel for Cats
Endurosyn® Digestive Health Probiotic Oral Gel for Cats is a three-day probiotic oral gel, in a palatable poultry-fish flavor, to promote intestinal well-being during sudden times of stress in cats.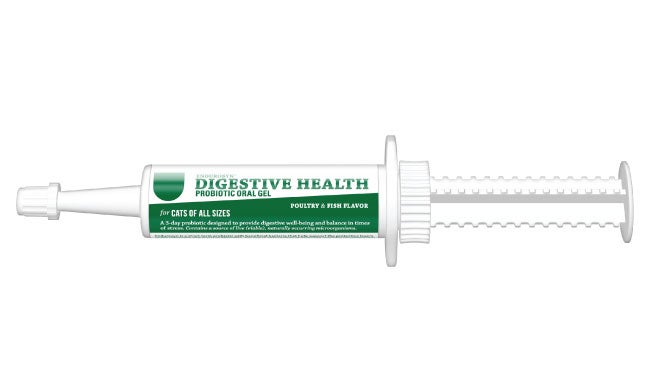 Top questions about Endurosyn® Digestive Health Probiotic Oral Gel for Cats
Contains probiotics — at least 10 million Colony Forming Units (CFUs) of live (viable), naturally occurring

bacteria per 5 grams

Contains the prebiotic inulin to help support beneficial bacteria

Electrolytes support normal water absorption in the gastrointestinal (GI) tract

Medium-chain triglycerides provide nourishment to cells lining the GI tract

Amino acids help support

intestinal cell integrity
Suggested use:
During times of stress, including traveling, boarding or training; can also be used after antibiotic therapy, deworming and digestive upset
Save on dermatology and supplement purchases from your veterinarian. See your vet for complete details on current offers.
FIND A VET
Endurosyn is a registered trademark of Elanco.
CAUTIONS: Keep out of the reach of children. For Animal Use Only.
WARNINGS: Do not give to animals who have known allergies to poultry or fish meal. If allergic reaction occurs, discontinue use and consult your veterinarian.