Seresto® Flea and Tick Collar for Dogs
Seresto® for dogs is the #1 vet-recommended flea and tick collar.* Our no-mess, easy-to-wear collars are trusted by dog owners and vets alike — with over 41 million collars sold and stocked in over 8,000 vet clinics nationwide.
Just select your dog's weight, your preferred dosage and your favorite retailer below to buy now.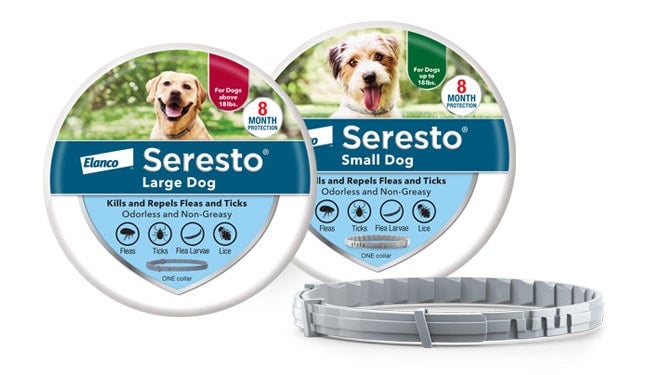 Why a Seresto® collar for dogs?
Seresto® for dogs kills and repels fleas and ticks through contact — no biting required

Seresto® provides 8 continuous months of flea and tick prevention for dogs

Seresto® dog collars protect against chewing lice

Seresto® is easy to apply, odorless, non-greasy and water-resistant†
Fleas and ticks won't last.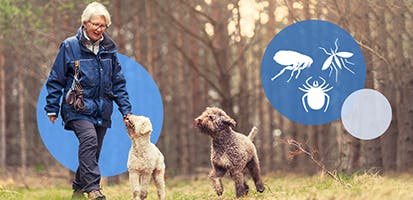 When is flea and tick season?
Unfortunately? All the time. Here's what you can do about it, and how flea collars for dogs can help.
See how Seresto® is different from the rest.‡
KILLS FLEAS & TICKS

REPELS FLEAS & TICKS

8 MONTHS OF PROTECTION IN 1 APPLICATION
| | | | | | |
| --- | --- | --- | --- | --- | --- |
| | | | | | |
| KILLS FLEAS & TICKS | | | | | |
| REPELS FLEAS & TICKS | | | | | |
| 8 MONTHS OF PROTECTION IN 1 APPLICATION | | | | | |
How to apply a Seresto® dog collar
Seresto® is protected by U.S. Patent No. 7,910,122.
*Data on file
†Seresto® is water-resistant and remains effective following a shampoo treatment, swimming or after exposure to rain. Under normal conditions, effectiveness lasts for 8 months. In order to maintain an eight-month duration, dogs must not be bathed more than once per month. For dogs that swim once a month or more, the control duration is reduced to 5 months for flea control and reduced to 7 months for tick control.
‡Based on label comparisons.
Bravecto® is a registered trademark of Merck Animal Health. FRONTLINE® and NexGard® are registered trademarks of Merial. Merial is now part of Boehringer Ingelheim. Simparica® is a registered trademark of Zoetis Services LLC.
Seresto, Elanco and the diagonal bar logo are trademarks of Elanco or its affiliates.