Seresto® for dogs
When they're protected from fleas and ticks, your dog can stay focused on the unique quirks and behaviors that make them, well, your dog. Seresto® for dogs offers the performance you expect from a monthly flea and tick treatment like topicals or pills, with the convenience of an easy-to-use 8-month collar. You read that right: One effective, odorless, non-greasy collar equals 8 months of protection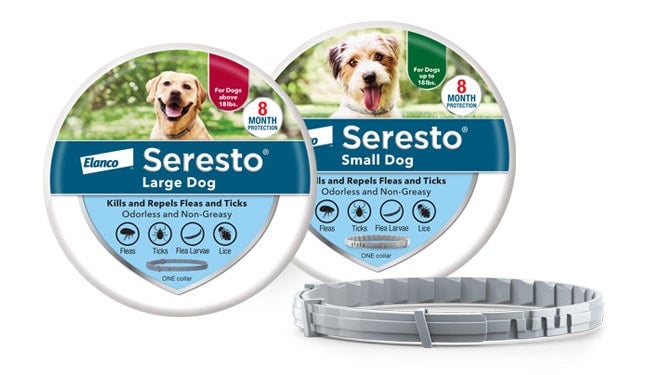 Why choose Seresto® for dogs?
Kills and repels fleas and ticks through contact - no biting required

Provides 8 continuous months of flea and tick protection for dogs

Aids in the treatment and control of sarcoptic mange, and kills chewing lice

Easy to apply, odorless, non-greasy and water-resistant**
Ready to help protect your dog from fleas and ticks?
Fleas and ticks don't stand a chance
Protects against:
Fleas and flea larvae, ticks, sarcoptic mange, chewing lice
Works for:
Dogs and puppies at least 7 weeks of age
Seresto® is rigorously regulated worldwide with your pet in mind.
Seresto®: A flea and tick treatment different from the rest†
KILLS FLEAS & TICKS

REPELS FLEAS & TICKS

8 MONTHS OF PROTECTION IN 1 APPLICATION
| | | | | | |
| --- | --- | --- | --- | --- | --- |
| | | | | | |
| KILLS FLEAS & TICKS | | | | | |
| REPELS FLEAS & TICKS | | | | | |
| 8 MONTHS OF PROTECTION IN 1 APPLICATION | | | | | |
How to apply Seresto® collar

1.
Insert the end of the collar through the buckle.

2.
Adjust the collar around the dog's neck without it being too tight or too loose. It should be possible to enter two fingers comfortably between the collar and the neck.

3.
Pull excess collar through the loop(s). Collar length greater than 1 inch beyond the loop(s) should be cut off unless it is on a growing puppy.

4.
Three reflector clips may be fixed permanently to the collar to increase your dog's visibility in the dark. Evenly distribute the clips on the non-overlapping part of the collar. The clips are correctly applied when a clicking sound is heard.
Seresto is a registered trademark of Elanco.
Seresto® is protected by U.S. Patent No. 7,910,122.
*Data on file
**Seresto® is water resistant and remains effective following a shampoo treatment, swimming or after exposure to rain or sunlight. Under normal conditions, effectiveness lasts for 8 months. In order to maintain an 8-month duration, dogs must not be bathed more than once per month. For dogs that swim once a month or more, the control duration is reduced to five months for flea control, and reduced to seven months for tick control.
Bravecto® is a registered trademark of Merck Animal Health. FRONTLINE® and NexGard® are registered trademarks of Merial. Merial is now part of Boehringer Ingelheim. Simparica® is a registered trademark of Zoetis Services LLC.