Preparing to fly with your dog or cat.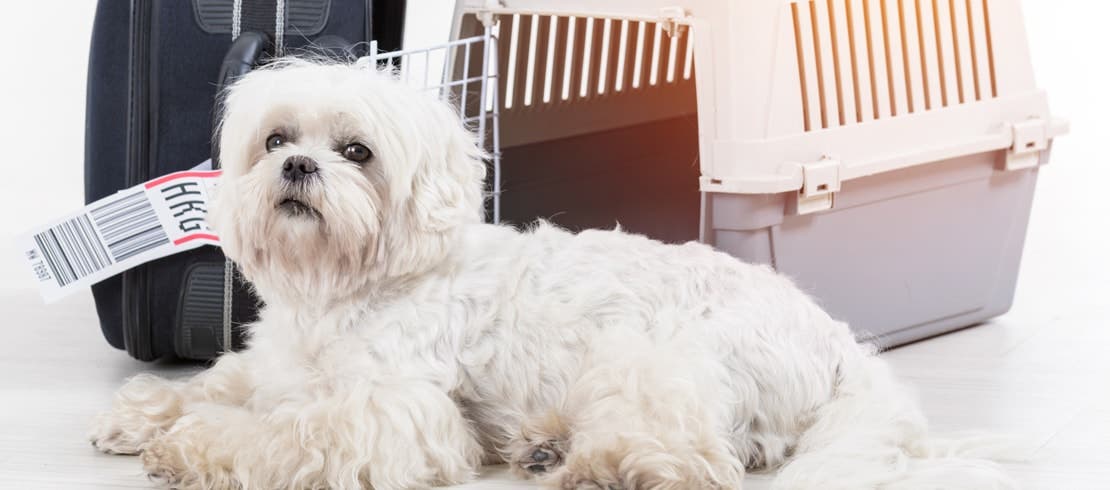 Family vacations aren't just for people — many families enjoy taking their dog or cat along for the ride, too! According to the U.S. Department of Transportation, more than 2 million pets travel by plane each year. If you want to fly with your dog or cat, you'll want to make sure you prepare them in advance for a safe and healthy trip. Here are four things you should do before the plane takes off.
1. Visit Your Veterinarian
If you're taking your pet on a plane, your first step should be to visit the veterinarian. Your vet will perform a full physical exam, including checking for fleas and ticks as well as listening to their heart and lungs, to make sure your pet is healthy to fly.
During the visit, share your travel plans and ask whether you should be aware of any particular risks and precautions based on your travel area. Some areas have increased risks of parasites, such as fleas, ticks, heartworms or intestinal worms, and knowing this information allows your vet to take preventive action for your pet accordingly. You may also wish to discuss the use of sedatives for your pet during plane travel.
While you're at the vet, snap a clear photo of your pet with your phone, both a full-body shot and one of their face. This way you'll have current pictures of your pet on hand in case you need it during your trip.
2. Do Your Research on Flight Requirements and Regulations
Well before you board the plane, check your airline's requirements about traveling with pets. Depending your cat's or dog's weight, your pet may be required to travel in the cargo hold, which will affect how you choose to pack their crate. Even if you've previously traveled with your pet, ask for updated regulations, as these may have changed since your last trip.
If you're flying outside of your home country, you'll also want to find out vaccination and potential quarantine requirements at your destination. Not all pets can be brought into another country, and in certain cases they may have to be isolated for a period of time before you can reunite with them.
Lastly, research the name and contact information for a veterinarian at your destination. Hopefully you won't need this information, but in case you do, it's best to have it at the ready.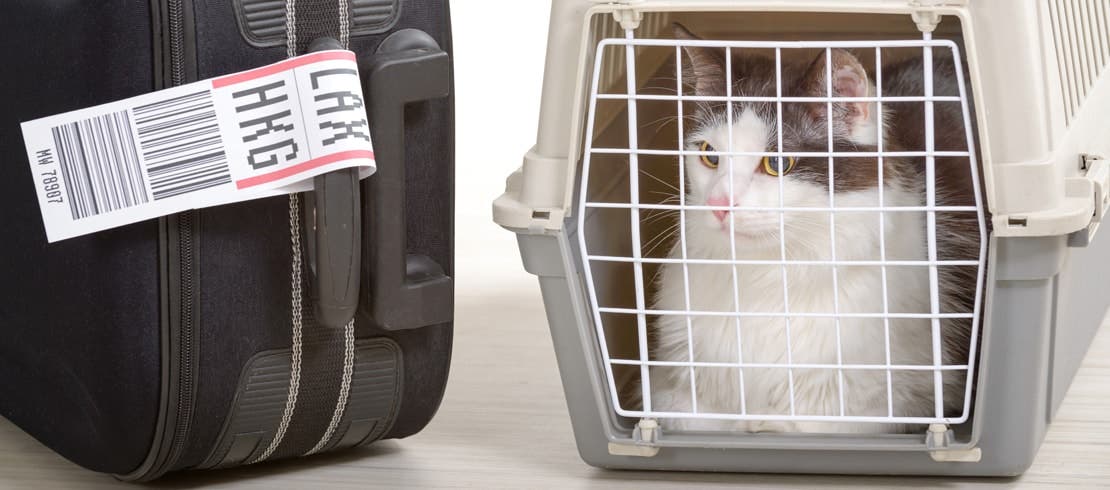 3. Prepare Your Pet
If your dog or cat is not used to transportation in their carrier, take the time to help them feel more comfortable in it. First, add familiar blankets, bedding or toys to the carrier. Make sure the crate has enough room for your pet to turn around while inside. You can also offer your pet their food in the carrier, leaving the door open so they become accustomed to it before your trip.
Avoid introducing other changes, such as the type of food you give your pet or the frequency with which you walk them, during your trip. Travel is stressful enough (for people and pets!) without adapting to a new routine.
4. Travel Wisely
On the day you depart, take the following steps to ensure the flight goes smoothly for you and your pet:
Do one last review of your pet's travel gear and don't forget to pack their flea, tick, and heartworm prevention and use it according to the vet's directions.
Tape your contact information inside your pet's crate.
Leave plenty of time to get to the airport so your pet can relieve itself ahead of time.
If your flight is long, line your pet's crate with absorbent pads.
Bringing your beloved pet along on a family vacation, particularly one involving air travel, can definitely add work to your preparations. But by planning ahead, flying with your dog or cat can be a pleasant and enjoyable experience for the whole family.
References
1. Plane Talk: Traveling with Animals. (2012, April 11). Retrieved February 21, 2018, from https://www.transportation.gov/airconsumer/plane-talk-traveling-animals.