How to plan a train trip with your pet.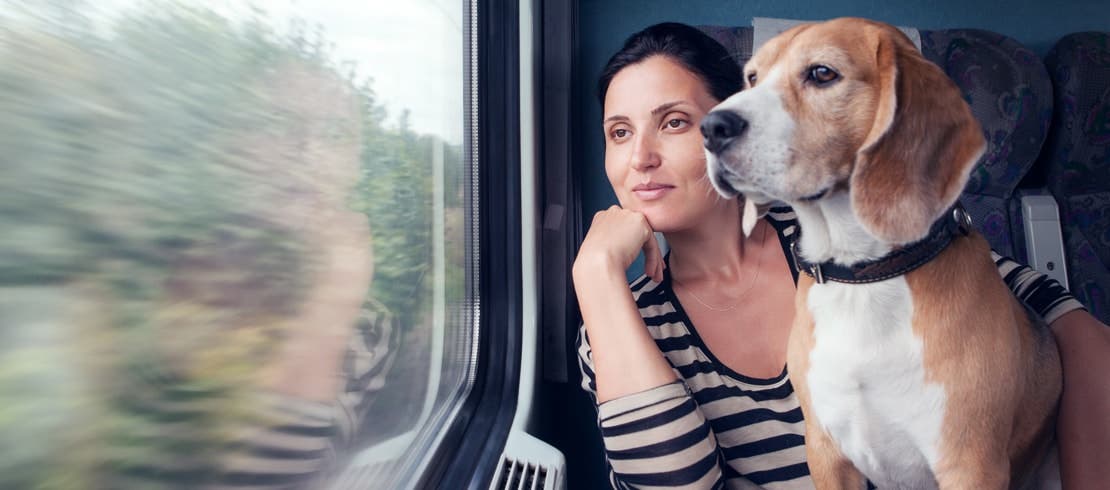 Traveling by train in comfort and safety is like any adventure: It requires a little advanced planning. Follow these four easy tips to help your four-legged friend travel well — and stay healthy along the way.
1. Talk to the Vet Before You Leave
Best practices for keeping your pet healthy can vary by time of year, activity and destination. For example, hiking and back-country adventures can increase your pet's exposure to ticks, while some regions may have a higher risk for heartworm. And even though your pet may currently be flea-free, there's no guarantee that other animals are as well.
Prevention is critical, so ask your vet about treatments your pet should have before your journey or at your destination. While you're at it, get an updated copy of your pet's vaccination and medical records. You may need them when you board your train, and they're essential in case of an emergency. And if you haven't micro-chipped your pet, make sure to do so before you leave.
2. Learn Railway Requirements
Different routes have different rules about pets on board. Make sure you're familiar with your carrier's requirements before booking. Here are a few things to consider:
Pet-specific cars: Some routes have a designated pet car and allow only a limited number of pet passengers; other routes allow pets in all cars.
Ride duration: Some railways limit your dog or cat to seven-hour routes, maximum.
Crate or carrier requirements: Many railways require that your pet be crated for the duration of the journey.
Additionally, make sure to book your pet's ticket in advance — no one wants the heartbreak of a trip delayed or canceled because the train is at capacity for four-legged travelers.
3. Reduce Your Pet's Anxiety around Train Noise
If you know your dog or cat loves to go for a ride, you may not have to worry. But anxious pets might benefit from a practice run. Put your pet in a carrier, head for the station and give plenty of treats and praise as the trains roll in. This will help your pet get used to the sounds of the railway station and the engine.
Going for a test ride is even better. Take your pet on a day trip to see how well they manage the noise, the motion and the excitement. Nervous pets may benefit from calming medication — another topic to discuss with your vet before you embark on a longer trip.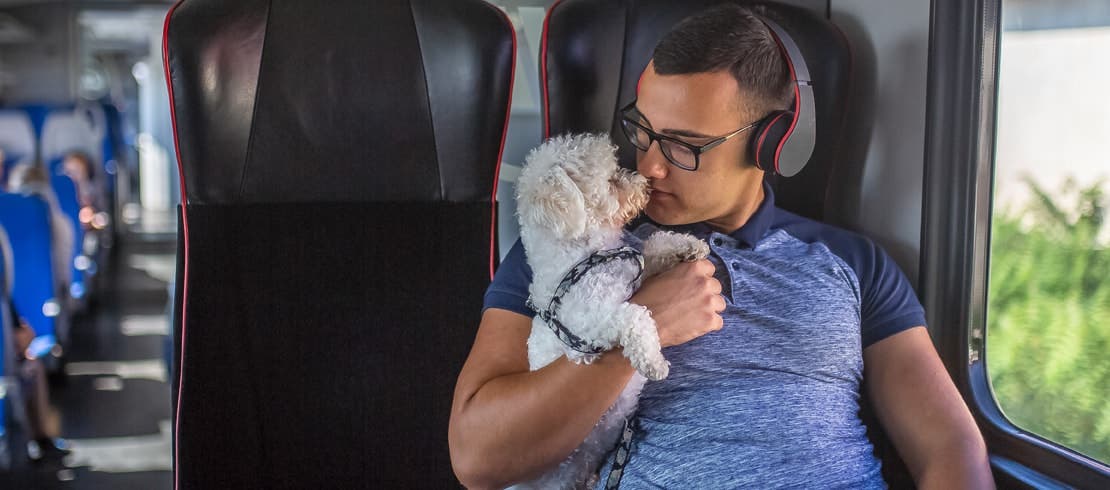 4. Pack for Your Pet
Once you've covered your pet's medical and identification needs, it's time to think about their comfort. Make sure to pack the following items for the ride:
A crate big enough for your pet to stand up and turn around in
A travel water bowl and your pet's favorite tasty treats
Your pet's favorite blanket
One of your unwashed T-shirts — your pet finds your scent reassuring, and the T-shirt may help them feel secure
Remember: A prepared pet is a happy traveler. With a little preparation, your dog or cat can become a railroad regular!